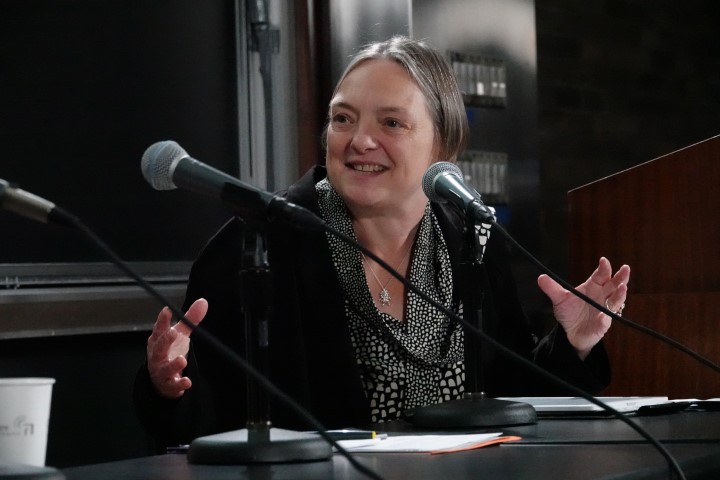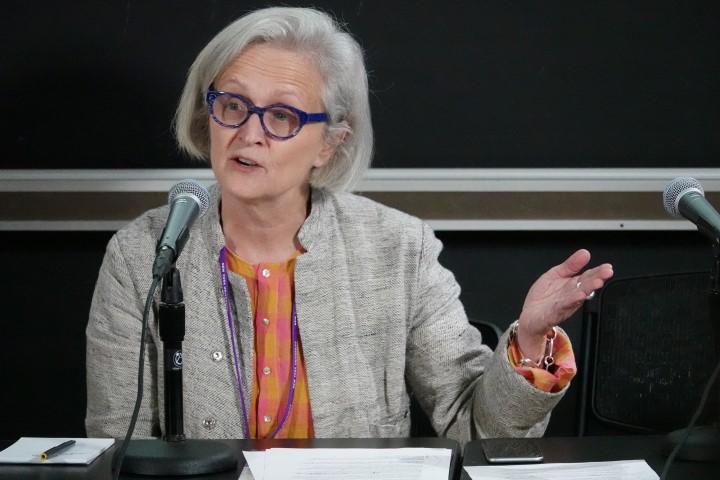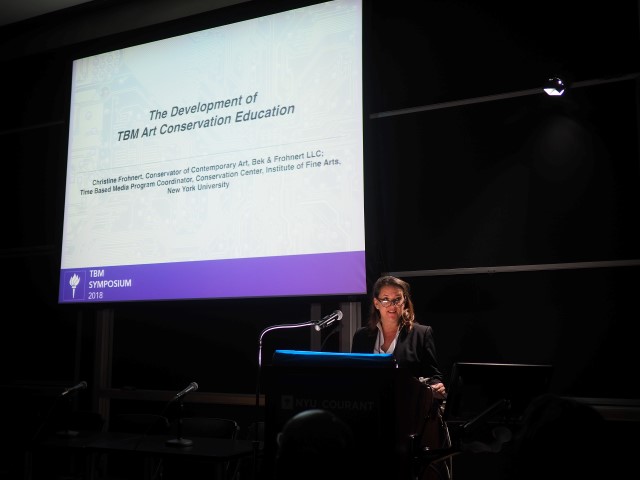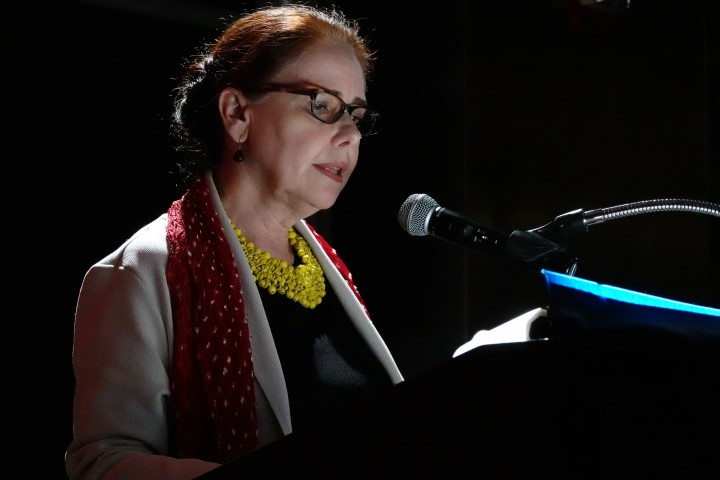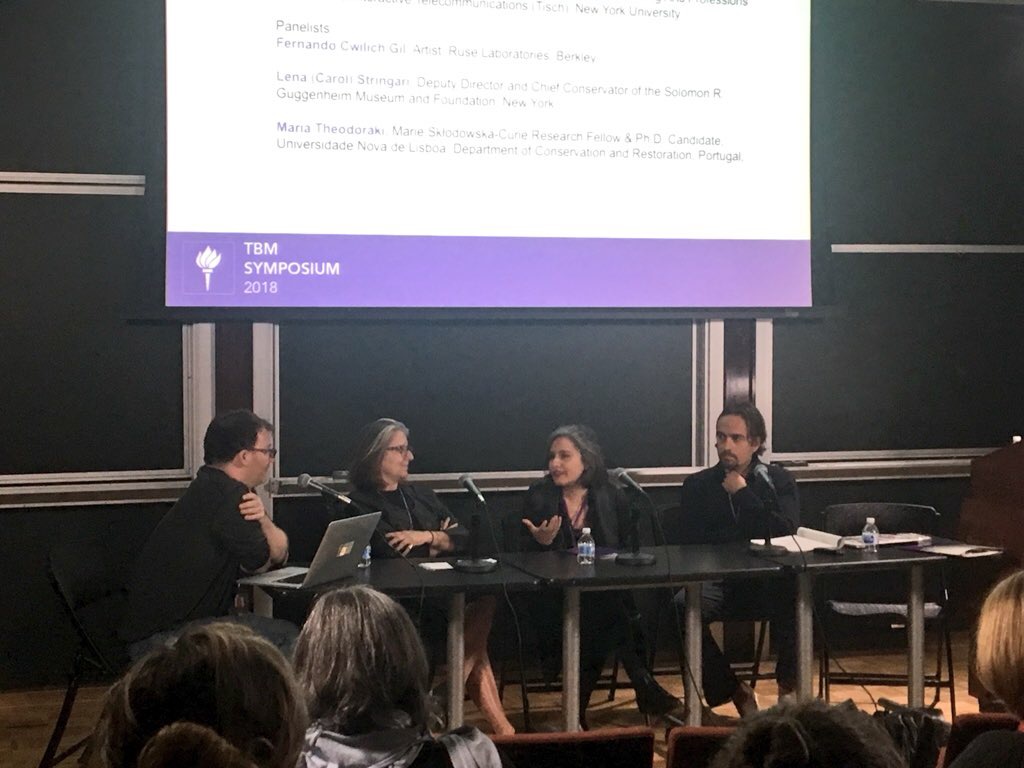 This past May, New York University's Institute of Fine Arts hosted the symposium "It's About Time! Building a New Discipline: Time-Based Media Art Conservation" in conjunction with their launch of the first masters-level training specialism in time-based media art conservation in North America. Over two days, an international group of educators, artists, art historians, museum curators and directors, collectors, gallerists, engineers, computer scientists, and conservators convened to discuss, debate, and share perspectives on the state of time-based media art conservation education and practice. 
In the first morning session, Christine Frohnert (Bek & Frohnert / NYU IFA) presented a historical overview of time-based media art education. Speakers representing conservation training programs in Berne, Vienna, Amsterdam, Rio de Janeiro, Stuttgart, and NYU shared their varied perspectives on "core competencies" as well as the many challenges they have faced in implementing training programs around time-based media art conservation. Agathe Jarczyk (University of Berne) explained that while skill sets can be deepened with experience, it is the unique role of conservation educators to foster a particular "mindset" in their students. These sentiments were reiterated throughout the symposium; Johannes Gfeller (State Academy of Art and Design, Stuttgart) noted that educators cannot and should not "teach recipes" but instead must arm their students to be critical thinkers and problem solvers. Jonathan Farbowitz (Fellow in the Conservation of Computer-Based Art, Solomon R. Guggenheim Museum) explained how this mindset involves a fundamental curiosity, humility, and aptitude for collaboration, noting the importance of mentorship and constant learning that is critical for time-based media – if not all – art conservators.
Over the course of the second day the institutional challenges posed by time-based media art conservation were discussed in conjunction with ongoing training needs. Iolanda Ratti (Museo del Novecento, Milan) discussed the training gap around contemporary art conservation in Italy, where education is still primarily focused around maintaining the material integrity of physical objects.  Curator Lisa Catt and Conservator Asti Sherring (Art Gallery of New South Wales) explained how museums, as "active spaces" contain "objects in motion"; old frameworks focused on medium-specificity and material uniqueness, fail to accommodate artworks where change is an attribute rather than a loss. They advocated for a conservation ethos that centers around asking "what is the artwork?" and emphasizes transparency about artwork change and transformation. 
Jo Ana Morfin (Universidad Nacional Autónoma de México) emphasized the importance of "learning by doing with artists," a notion that was picked up in a round table discussion on the interface between the artist and the conservator. Artist and NACCA PhD researcher Maria Theodoraki (University of Lisbon) expressed her view that conservators must overcome the perceived taboo of working with artists out of a fear that they may exert "influence" and change the work; artworks are ever changing, and conservators, she explained, are expert at interacting with self-awareness and sensitivity.
In a final roundtable, Pip Laurenson (Tate), Tina Rivers Ryan (Albright Knox Art Gallery, Buffalo), Alfredo Salazar-Caro (Digital Museum of Digital Art) and Jill Sterrett (SFMoMA) discussed the "imagined futures" of time-based media art conservation. Sterrett remarked how "we plan for the future but can only really know the present," stressing the importance of conservation's role in negotiating between past, present, and future stakeholders. Rivers Ryan pointed to the importance of ruptures in museum structures prompted by works that break conventions and force museums into new directions. Rather than compelling artists and artworks to fit into existing conventions and norms, the tendency of modern and contemporary art to prompt new modes of thinking and doing should be embraced by institutions and be reflected in conservation training programs.
Overall, this symposium highlighted the key role conservation training programs must play in preparing conservators to tackle the unique preservation challenges associated with works of modern and contemporary art. As such, this symposium will undoubtedly be regarded as a major turning point in the history of conservation and the development of the field.
For more information about the symposium, including links to video recordings, please visit: tbmsymposium2018.com.
For information about the NYU Institute of Fine Arts masters-level specialism in time-based media art conservation, please visit: https://www.nyu.edu/gsas/dept/fineart/conservation/time-based-media.htm.
Brian Castriota