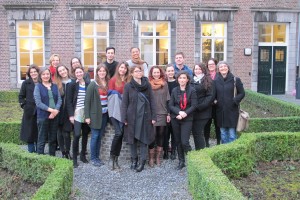 From 25-29 January, Maastricht University hosted the first Winter School for the Marie Skłodowska-Curie Innovative Training Network 'New Approaches in the Conservation of Contemporary Art' (NACCA). Fifteen doctoral students and their supervisors gathered at FASoS for a tailor-made, five-day training event.
At the Winter School, the NACCA PhDs attended lectures and seminars on the history, theory and concepts of contemporary art and art conservation. They were trained in general academic skills, research methodology, ethics, and data management. In addition to attending lectures and seminars, the participants visited the Bonnefantenmuseum Maastricht and Stichting Restauratie Atelier Limburg, a leading insititute specialised in the conservation and restoration of paintings, sculptures, and modern and contemporary artworks.
The NACCA programme is coordinated by Maastricht University and funded by the European Union. The 15 PhD projects that are part of the programme will each investigate a different, as yet under-explored aspect of contemporary art conservation.
For more information about NACCA , please contact the project manager Sarah Melker.
Charlotte van Emstede